Gnuss³
As a hotel guest, you can choose to dine in one of our 3 Seelust restaurants, Seehuus und Seegarten! And that's not all: you can put together your own 3-course menu from the menu!
Für nur CHF 50.– erhalten Sie an der Rezeption einen «Gnuss³»-Gutschein, mit dem Sie im Restaurant Ihrer Wahl Ihr ganz persönliches 3-Gang-Menü geniessen. Gerne reservieren wir einen Tisch für Sie. En Gueta!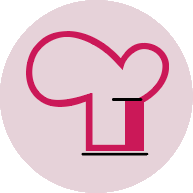 Seelust Wiedehorn
Seelust spoils you with regional and multi-faceted culinary art at a high level (13 Gault Milllau points, 3 guild crowns).
Whether in the parlour, in the orchard, on the veranda or in the garden.
Tel. 071 474 75 75, www.seelust.ch
Seehuus Wiedehorn
Enjoy the magnificent view of Lake Constance in the restaurant, on the covered terrace or on the garden seating area. Choose from a variety of regional and seasonal specialities.
Tel. 071 477 26 06, www.seehuus.ch
Seegarten Arbon
The Seegarten on Lake Constance serves exquisite Swiss and international dishes. Spend cosy hours in the restaurant or on the garden terrace.