Gnuss³
As a hotel guest you can choose to dine in one of our 3 restaurants Seelust, Seehuus and Seegarten! And that's not all: You can compose your own 3-course menu from the menu! For only 45 francs you will receive a "Gnuss³" voucher at the reception, with which you can enjoy your very own 3-course menu in the restaurant of your choice. We will gladly reserve a table for you. En Gueta!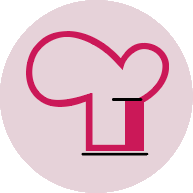 Seelust Wiedehorn
Die Seelust verwöhnt Sie mit regionaler und facetten-reicher Kochkunst auf hohem Niveau (13 Gault-Milllau-Punkte, 3 Gilde-Kronen).
Ob in der Gaststube, im Obstgarten, auf der Veranda oder im Garten.
Tel. 071 474 75 75, www.seelust.ch
Seehuus Wiedehorn
Geniessen Sie im Restaurant, auf der gedeckten Terrasse oder auf dem Gartensitzplatz die herrliche Aussicht auf den Bodensee. Wählen Sie aus einer Vielfalt an regionalen und saisonalen Spezialitäten.
Tel. 071 477 26 06, www.seehuus.ch
Seegarten Arbon
Der Seegarten am Bodensee serviert exquisite Schweizer und internationale Gerichte. Verbringen Sie gemütliche Stunden im Restaurant oder auf der Gartenterrasse.